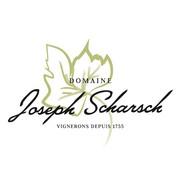 Domaine Joseph Scharsch
WINEMAKERS IN WOLXHEIM SINCE 1755
The beginnings of this human adventure date back to 1755, the records from that time mention the marriage of Catherine Schirr to Joseph Scharsch, already mentioned as a winemaker in the street leading to the church. Since then, eight generations of winemakers have successively developed this vineyard.
12 HECTARES CULTIVATED ORGANICALLY
The 35 plots that presently make up the estate are spread throughout the five surrounding municipalities, with each piece of land having its own singular terroir and combination of soil and exposure. This diversity of terroir constitutes the greatest wealth, allowing the cultivation of one of the seven Alsace grape varieties (Sylvaner, Pinot Blanc, Pinot Gris, Pinot Noir, Muscat, Riesling and Gewürztraminer) in a location where it thrives fully.
An eighth variety, the Chardonnay, is dedicated exclusively to Crémant (Sparkling Wine).
Since 2009, the whole area has been dedicated to organic production, without herbicides or fertilisers or chemical treatment products.
Diseases are controlled with natural products like Bordeaux mixture, sulphur or plants like nettle or horsetail. The natural fertility of the soil is maintained by composting. Grass growth is controlled by weeding or soil tillage.
Ethical and quality aspects.
Ethical to cultivate a healthy product and hand on "clean" land to our children.
Quality because with organic cultivation, vines produce fewer grapes. Production is naturally controlled. Organic vines also have better roots to draw deep mineral elements naturally available in soil. The wines produced combine purity and minerality.