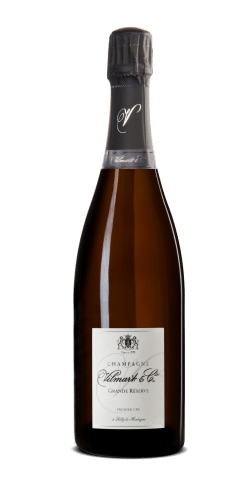 Grande Réserve 1er Cru Brut
Blending composed of 70% Pinot Noir and 30% Chardonnay classified Premier Cru and from vines in Rilly-la- Montagne. In agreement with its certifications of Viticulture Durable (Sustainable Viticulture) and Haute Valeur Environnementale (High Environmental.
Vinification key points:
Manual harvest 2017
Reserve wines 2015/2016
Aging process: ten months into large oak casks
Nomalolacticfermentation
Dosage: 9 g/l
The blond colour with pale golden highlights announces a wine mostly composed of Pinot Noir and reflects a perfect maturity. The effervescence is long-tasting, giving birth to a persistent and delicate mousse with fine bubbles.
The first impression on the nose is marked by great intensity. It is opening on biscuit, mature wheat, pear and cherry flavour. After a few seconds, the nose became wider. The iris, oak, celery, white pepper and fine mineral aromas bring depth and complexity to the wine. With air, melted butter and toast notes appear, reflecting an harmonious evolution of the wine.
There is a fine balance between the primary aromas (fruits), secondary (biscuit, bread, butter) and tertiary (minerals and spices).