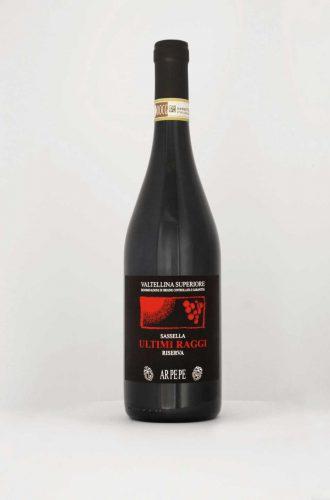 Sassella Ultimi Raggi Riserva 2016 DOCG Valtellina Superiore
Not making Sforzato di Valtellina sounds rather odd to red wine lovers in this land, but if one is to remain true to one's vision, one may indeed appear to be odd at times.
Like the Sforzato, this wine plays on the super-ripeness of the grapes. The game is played out not in the cellar, however, but in the vineyard, up to 600 metres above sea level, in the Ere zone at the highest point in Sassella.
The right waiting time to reach the right degree of phenolic ripening of the grapes can take some weeks later than in the vineyards below. The variations in temperature between day and night during the harvest add strength to the skins and concentrate the sugars. The fruit slowly dries in the wind, while still attached to the vine, as it prepares for its winter rest. Just before the snow comes, between the middle and end of November, the grapes are picked, gently crushed and pressed in a wooden vat. At the first racking, it is completely dry and acidity levels are quite pronounced. The super-ripeness mitigates the nervous tannins of Valtellina Superiore Sassella Riserva Ultimi Raggi DOCG and ageing in large barrels smoothens out its rich texture.
The sweetness of the ripe fruit thus lingers in the fragrance, without any cloying softness on the palate.
After ageing in the bottle, Ultimi Raggi becomes the wine with the highest alcohol content of our production, while losing none of the freshness and mouthfeel of Nebbiolo from the Alps.
| | |
| --- | --- |
| Tuottaja | Arpepe |
| Maa / Alue | Italia - Lombardia |
| Pullokoko | 0,75l |
| Hinta | |