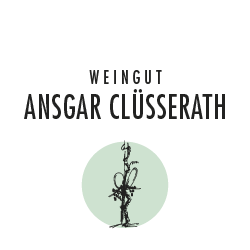 Weingut Ansgar Clüsserath
Since its founding in 1670, Weingut Ansgar Clüsserath in Tritteheim on the Mosel has been owned and operated by the family.
Today, Eva Clüsserath-Wittmann is following in the footsteps of her father, Ansgar. Together they manage the estate. After completing her oenological studies at the viticultural school in Geisenheim/Rheingau in 2001, she worked simultaneously at the estate and at the Pfalz regional branch of the VDP (Prädikat Wine Estates) before deciding to devote all of her energy to the estate in Trittenheim. Like her husband, Philip Wittmann of Weingut Wittmann in Westhofen/Rheinhessen, she is a member of Germany's new generation of wine-growers who are committed to traditional, ecologically sound viticultural practices as well as forward-looking methods. Both in the vineyard and in the cellar she uses her personal style to bring forth the special characteristics of the Mosel's unique cultural landscape. Her wines express the typicality of the soils and steep sites with great finesse and elegance.