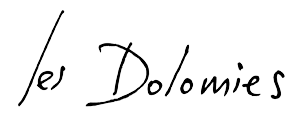 Les Dolomies
I created the estate in 2008, with the help and support of my husband, Steve.
By 2010 a total area of ​​3,65 ha, located in the villages of Passenans and Frontenay. The cellar is located in Passenans.
I work vineyards according to the specifications of organic farming and use biodynamic preparations since the creation of the estate.
I work the vineyards mechanically using a small caterpillar that also performs the treatments. I distribute the compost with my mare Octavia who in the future will learn the tillage.
All other work in the vineyard is done manually.
Biodynamic preparations.
Passage of horn dung (500P) in autumn and spring; use of horn silica (501) during the growing season.
I use herbal teas in vine treatments mixed with whey from organic goats and in combination with more traditional treatments of copper and sulfur which allows to reduce the doses of the latter.
If I had to summarize my vision of agriculture then I would borrow the sentence of Saint-Exupéry which says:
"The earth does not belong to us; it is lent to us by our children. "
It is therefore important to accompany the earth in a respectful way so as not to leave traces of our passage.